Olympic Gym
Our Olympic Gym is centered around IGC founder Bruno Klaus' invention of the 6″x6″ foam block and is specifically designed with one of the world's largest foam pits to provide unparalleled training opportunities.
This training gym features an oversized competition floor, vault, women's single rail, tumble track, rod floor, rings, parallel bars, and high bars all going into the foam pit. The Olympic Gym also includes a dedicated pommel horse area with multiple pommel horse and drill stations; a dedicated parallel bar area; low, high, and competition ring stations; and smaller sized JF pommel horse and parallel bar equipment specially designed for younger gymnasts.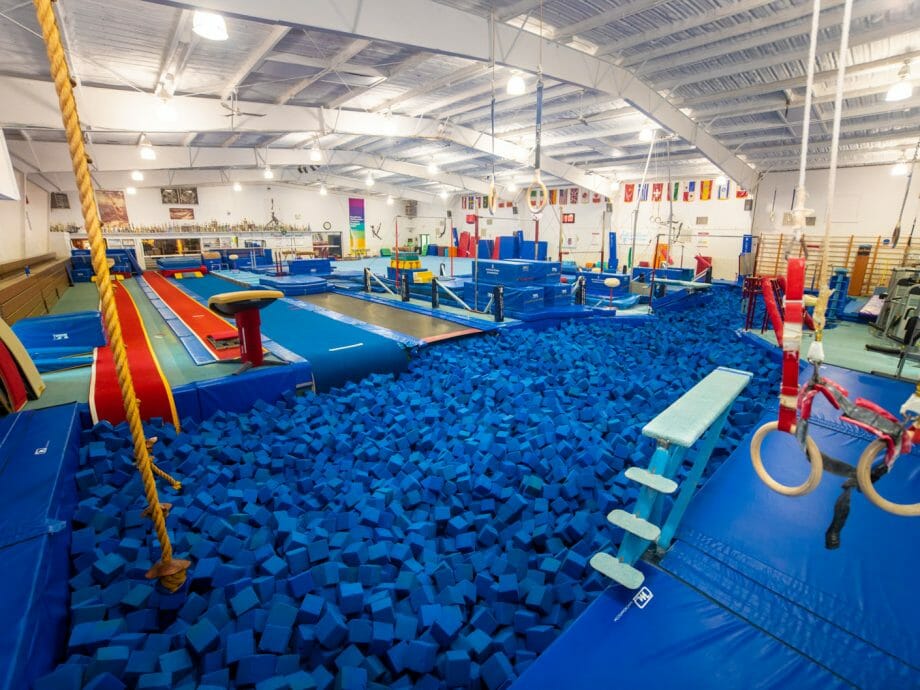 Bar Gym
Designed for gymnasts to excel on bars, IGC has eight full sets of uneven bars, high and low strap bars, single rails, a trampoline bar, handstand trainers, floor bars, and countless drill stations. The Bar Gym also features one of our three full or oversized spring floors.
The Bar Gym stations are complimented by the women's high single rail into the pit in the Olympic Gym, as well as an additional three tunnel bars in the Vault & Floor Gym – including one directly into the pit, specifically designed for spotting dismounts and release moves.
Beam Gym
Our one-of-a-kind Beam Gym is the best in the world. With over 30 beams of various heights, floor beams, 10″ wide training beams, a wide variety of practice stations, and a pit area designated for beam dismounts, our Beam Gym offers campers the very best beam development opportunities. Our amazing equipment and facilities make it possible for our campers to progress through skills in a confident, positive manner.
Vault & Floor Gym
The Vault & Floor Gym was designed to maximize tumbling and vaulting progression and development. With two pits, one on each side of this gym, this facility maximizes the training potential and minimizes the forces and impacts of hard landings.
There are seven separate vaulting stations: three runways lead to vaulting tables into the pit, one leads to a vaulting table dedicated to uphill vaulting, and three more runways lead to resi-pit and soft surface vaulting systems. One side of the floor in this gym goes into the pit, allowing for three lanes of tumbling to pit and one lane of tumbling drills up to a higher surface. The other side of the floor area includes a rod floor to pit, a tumble track to pit, and three tunnel bars.
Dance Gym
Our Dance Gym features a customized dance floor specifically made for gymnasts, a professional sound system, and a fully mirrored wall. It is ideal for developing dance skills in a wide range of disciplines, including ballet, jazz, and hip-hop, as well as perfecting gymnastics leaps and turns.